Updated: December 10, 2023
SETTING THE RECORD STRAIGHT: FACTS & RUMORS
Arizona | Colorado | Georgia | Michigan | Pennsylvania | Wisconsin | Back to Main
Dominion in Colorado

Dominion Voting Systems is an American company based in Denver, Colorado.  The company proudly serves 62 of 64 Colorado counties. Unfortunately, the company and Colorado state and local elections officials have been unfairly targeted by outlandish, false allegations meant to sow doubt and confusion about the results of the 2020 presidential election.  A number of Colorado officials have spent time reassuring voters and the public that the state's election model is "considered nation's gold standard" that has earned national recognition and widespread, bipartisan support since its adoption in 2013, including:  Colorado Secretary of State Jena Griswold, former Colorado Secretary of State and Colorado Springs Councilman Wayne Williams, the head of Colorado's Republican Party and numerous county clerks.
Colorado certified its election on December 8 after each county's bipartisan canvass board certified its election results. A risk-limiting statewide audit provided statistical confidence in the results of the election. Pam Anderson, executive director of the Colorado County Clerks Association, said "Colorado's public bipartisan canvass and audit boards verified that there were no kind of election irregularities as described." Similarly, Republican Clerk and Recorder Carly Koppes of Weld County found "zero discrepancies with both our audited and unaudited races here in Weld County for the 2020 General Election and the March primary election, and the June election."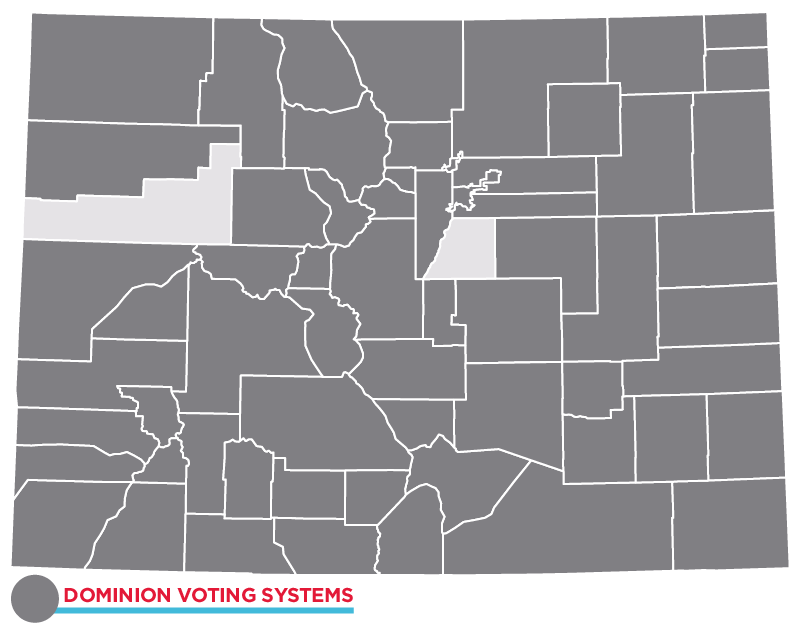 HERE ARE THE FACTS:

Colorado Election Law 2020 Title 1, C.R.S. necessitates a "voter-verified paper record" and all counties to conduct statistically rigorous risk-limiting audits after each election.

In accordance with Colorado Law, Dominion machines accurately tabulated ballots using a durable paper ballot controlled and secured by local elections officials.  Results are 100% auditable.
"Since its adoption. Dominion machines have been tested in 62 Colorado counties at least 868 times.  They have passed every test," said former Secretary of State Republican Wayne Williams.
Furthermore, election rule 8CCR 1501-1, Rule 11 mandates voting systems undergo both a hardware diagnostic test and a logic accuracy test prior to elections.
Testing was done publicly and conducted by election officials.
Williams has emphasized that "Colorado's system is designed with a number of precautions to ensure that it's done accurately and [people] should have confidence that their votes are counted accurately here in Colorado."
MORE INFO: Arizona | Colorado | Georgia | Michigan | Pennsylvania | Wisconsin | Back to Main