Updated: September 21, 2023
SETTING THE RECORD STRAIGHT: FACTS & RUMORS
Arizona | Colorado | Georgia | Michigan | Pennsylvania | Wisconsin | Back to Main
Dominion in Pennsylvania

Dominion refutes the baseless and false claims about the integrity of the election system or accuracy of the results in Pennsylvania. Despite numerous election security experts and U.S. Attorney General William Barr affirming there is no evidence of widespread fraud in this election, disinformation persists.
Pennsylvania certified its election results on November 24. Certified election results in the state validate the accuracy of the machines and their official tallies.
Dominion serves 14 of Pennsylvania's 67 counties: Armstrong, Bedford, Carbon, Clarion, Crawford, Erie, Fayette, Fulton, Jefferson, Luzerne, Montgomery, Pike, Warren, and York.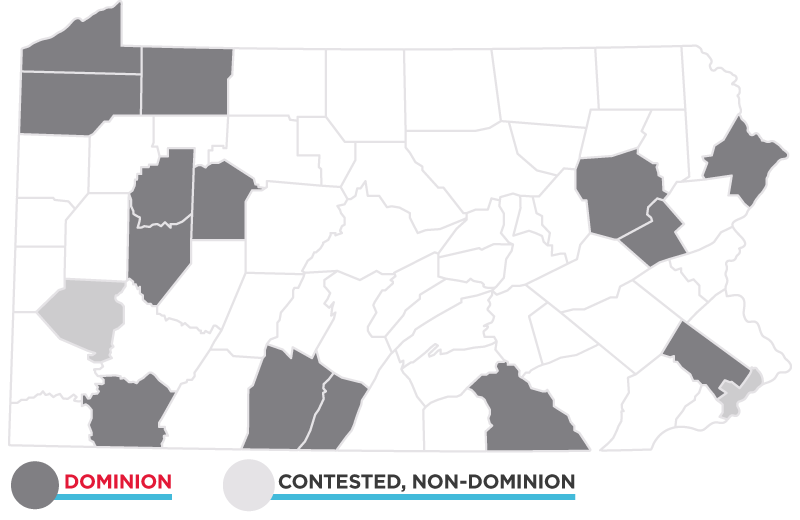 Notably, Dominion does not operate in the counties that Trump has falsely claimed rigged the election such as Allegheny and Philadelphia.
HERE ARE THE FACTS:

Based on the Pennsylvania Department of State's reported unofficial returns, in 2020, President Trump won 12 of those 14 counties and exceeded his 2016 vote percentage in 11 of those 14 counties.
Claims that 941,000 votes for President Trump in Pennsylvania were deleted are impossible.
The 14 counties using Dominion systems collectively produced 1.3 million votes, representing a voter turnout of 76%.
Fifty-two percent of those votes went to President Trump, amounting to 676,000 total votes processed for the President in Pennsylvania using company systems.
The Department of State directed all Pennsylvania counties to select new voting systems with voter-verifiable paper ballots by the end of 2019 to ensure that Pennsylvania voters are voting on the most secure, accessible, and auditable equipment available.
As verified by the state of Pennsylvania, Dominion systems are capable of producing paper records and are 100% auditable, with testing, reviews, audits, and recounts subject to oversight and verification.
All Dominion machines underwent preliminary and public logic and accuracy testing before the election.
Testing was done publicly and conducted by bipartisan election inspectors.
Dominion did not refuse to speak with Pennsylvania legislators.
The company asked to delay any public hearing due to security and litigation threats.  As results in Pennsylvania, Michigan, Georgia and other states continue to demonstrate, Dominion systems are performing with complete accuracy and reliability.
MORE INFO: Arizona | Colorado | Georgia | Michigan | Pennsylvania | Wisconsin | Back to Main